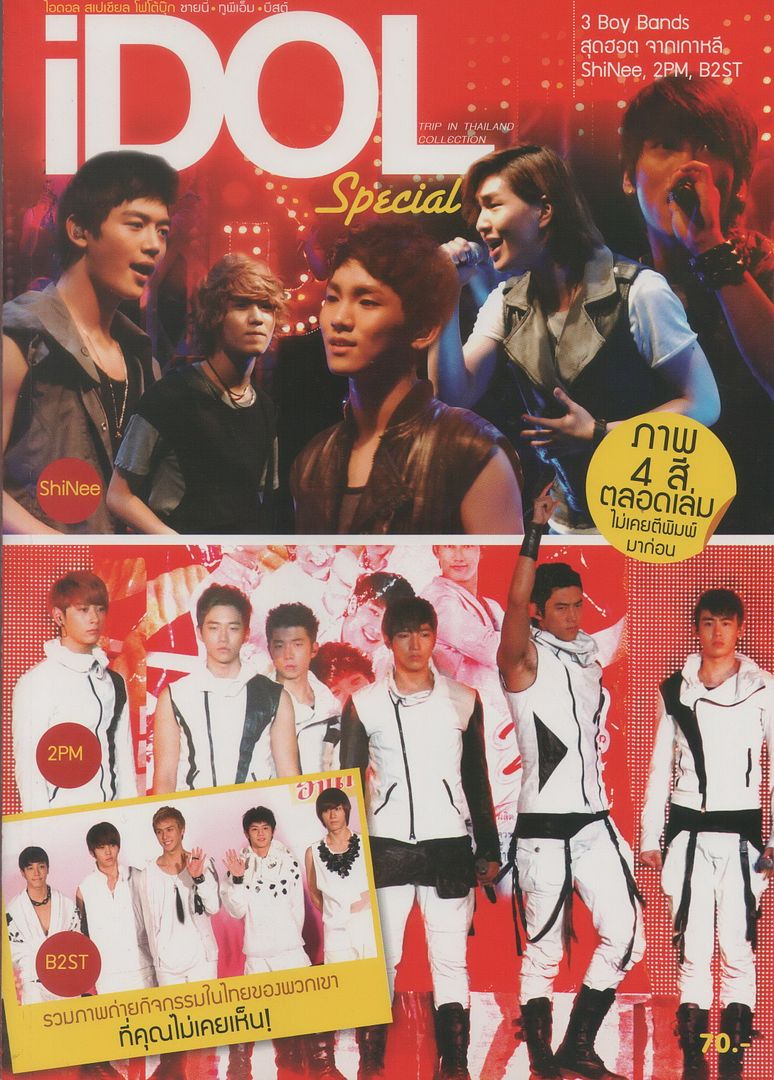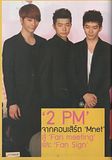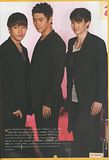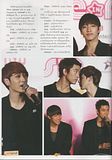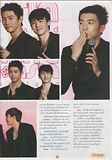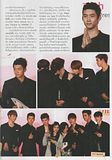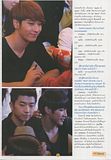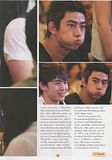 The full magazine scans can be found
here
!
QUOTE
'2PM' From 'MNET' Concert to 'Fan Meeting' and 'Fan Sign'
It has been a very long time since the last time we saw each other. Now finally the 6 member group 2PM (NichKhun, JunHo, JunSu, TaecYeon, WooYoung, ChangSung) once again set foot in Thailand. This trip is most anticipated trip for both 2PM and Thai HOTTEST.
The purpose of this trip is to join together for 'MNET Ultimate Live in Asia Thailand' by HANAMI, 'HANAMI Fan Meeting: Love 2PM' and a bonus fansign to promote their latest mini album 'Still 2:00PM'. Let's get started…
At the press conference of 'MNET Ultimate Live in Asia Thailand' at Infinity Hall, 5th Floor of Siam Paragon, the boys came out in black suits (looking pretty sharp!). They each greeted the fans in Thai with NK (the Thai spoke person)
2PM: Hello. We are 2PM.
CS: Sawasdee krub (Hello). I'm ChangSung.
WY: Sawasdee krub. I'm WooYoung.
JH: Sawasdee krub. I'm JunHo.
JS: Sawasdee krub. I'm JunSu.
TY: Sawasdee krub. I'm TaecYeon.
NK: Sawasdee krub. I'm Khun, NichKhun.
After the greeting, the MC, VJ Aek asked the boys to say something Thai to the fans.
CS: (Thai) pork fried rice is delicious.
WY: Thai people are lovely.
JH: I love Thailand.
JS: It will not rain tomorrow! LOL (reference-because last time JS/JH was the chosen representative for a press conference, it rained a lot but fans still came out and waited…hence, the rain remark. Let's hope that it will not rain this time.) This time we will be inside so no worries even if it rains.
TY: Do you want to marry me?
(Taecyeon, did you think HOTTEST will let this comment slide without a reply? HOTTEST answered with a loud YES! TY then motioned with his hands (c'mon) which caused Thai HOTTEST to scream even louder!
VJ: Let's talk about your latest work…
TY: our latest album, a mini album, was just recently released in Korea. This album mostly consists of heartfelt songs to show our sensitive side.
VJ: How do you feel about performing a full concert here in Thailand for the 1st time?
WY: Right now I don't know what to say because I am overjoyed.
VJ: Would 2PM like to formally invite Thai HOTTEST to the concert?
NK: I would like everyone to come and I promise that we will have a great time.
JS: Tomorrow we will have a special surprise for HOTTEST. If you want to know what it is you'll have to come.
Today, 2PM didn't just come to promote 'MNET…' but all idols involved also came with something special to be auctioned off to help with Thailand's flood relief. Not only are the boys handsome, they are very compassionate too! 2PM will auction the only one signed 'Still 2:00PM' cd in Thailand starting bid is at 26,000 Baht (around $896 USD) After Q&A session, the bidding for the 'Still 2:00PM' started. The CD will go to the fan club with the highest offer. Immediately following the auction, each representative of each fan club was allowed to give their gifts to the boys (which were many!). Each member received many gifts (we were very envious of the boys).
When the conference was over, we ran down to the 2nd floor to join the crowd waiting for the 'Fan Sign'. We were a little disappointed with the Korean bodyguards. They were overly strict with the media who were trying to take pictures of 2PM. We didn't know if we had some kind of disease or something because they were trying to keep us as far away as possible. We were confused. We will over looks this situation today because of the wonderful 6 boys. This 'Fan Sign' is only for fans that purchased 'Still 2:00PM' cd. These lucky fans will get to have the boy's autographs, handshakes, conversations and can give to the boys their gifts. We can see how hard the boys are trying to please HOTTESTs. Even with their tight schedule and traveling, the boys did not even show how tired they might be but kept smiling and talking comfortably with each fan.
As the 'Fan Sign' came to an end, 2PM are now on their way to get some rest and prepare for 'HANAMI: Love 2PM and 'MNET…' These events will take place at Impact Arena in ThongThani, Bangkok Thailand.
As we waited for the HANAMI: Love 2PM to begin, we heard loud screams and thought that 2PM stepped out on to the stage. That was not the case. With HOTTEST's continuous screaming and waving of their hands, we looked around to see what the cause was. It turns out that the Mothers of NK, CS, & JS were in the audience. (The Moms were there to show support for the boys.) The Moms encouraged the fans even more by waving in return. The Moms started showing their thumps up and sang 'I'll Be Back'. So that was the cause of the commotion on the 2nd floor, which was above us, is also where the Moms were seated. Many fans ran to get pictures with the Moms. (This in returns will help promote themselves as well as 'Still 2:00PM' album.) We were mesmerized with what was going on around us that the time for the 'Fan Meeting' started with Again & Again getting louder and louder…2PM then stepped onto the stage and performed the song 'I'll Be Back' the boys latest single in Korea. DJ Aggy (?) and Yoo KonYong (?) came out and started the 'Fan Meeting' with a lot of excitement.
DJ: Can you please greet the fans in Thai?
CS: Sawasdee krub (Hello). My name is ChanSung.
JH: Sawasdee krub. My name is JunHo.
WY: Sawasdee krub. My name is WooYoung.
JS: Sawasdee krub. My name is JunSu.
TY: Sawasdee krub. My name is TaecYeon.
NK: Sawasdee krub. My name is NichKhun.
DJ: How does it feel to meet 5000+ Thai HOTTESTs today?
JH: Thank you for coming and showing us your support.
DJ: 'MNET…', you could say, is the 1st full concert in Thailand. What is going through your mind right now?
TY: First of all, we would like to thank HANAMI for choosing us as their representative. We already enjoy HANAMI and on top of that we get to meet our Thai HOTTESTS as well.
DJ: Now that you are HANAMI's representative, can you show us how you enjoy eating it?
(From here 2PM acts out how they enjoy eating HANAMI)
CS: puts his head back and stretching his arm out above his head and drops one into his mouth.
(Our Mr. Ok couldn't stand it and said "I'm going to show you an active way of eating.")
TY: Jumps up and tosses one in his mouth.
(He's so hyper this one!)
(In seeing his friends doing it that way…WY said "Why must it be difficult?)
WY: Throws one and catches with his mouth.
(JH, not wanting to look bad, said "I normally eat it while watching TV.")
JH: gets down on his stomach and starts to eat while watching TV.
(Moving to the next Jun, JS "I usually eat it before going to bed.")
JS: drops down and lay on his side and starts eating.
(The most anticipated member, NK. Seeing how his friends are trying to top each other with their cuteness, says: "When I eat HANAMI, I eat a lot at one time.")
NK: Grabs a hand full and shoves it into his mouth.
(This shows a piggy side of you, Nong  used when talking to or about someone who is younger).
After showing their own unparalleled style of eating HANAMI, they each received an orange shrimp as a prize. Now that I've seen their strange…Oh! I mean unique way of enjoying it; let's move on with the show. The boys performed Again & Again and because HOTTESTs wanted to write down their feelings for the boys, HANAMI gave 6 giant balls with each member's name on it so that fans can write down their messages. When staff let go of the balls, fans started to pass the balls hand by hand towards the stage for the boys. When 2PM got the balls, they were given a chance to read the messages.
The next event is games with fans. 12 lucky fans were picked out of the audience. They were then divided into 3 groups of 4. Each team will have a piece of paper with different colors. Each team will stand on the paper without any part of their bodies going over the edge. Round 1: no loser. The paper is then is folded in half but still has 4 members. Any team with larger members will have a harder time since there is less space to stand. This game continues until one team remains. The prize will be 6 life size HANAMI Standees of the boys. As that is still going on, 2PM wanted to play too. So the boys were put into 2 groups of three. Team 1: CS, JS, & JH. Team 2: NK, TY, & WY. Round 1: all passed. Round 2: team 1 got on top of each other, as for team 2: they tried hugging each other but they lost because they couldn't stand still keep arms/legs within the paper. (I translated this event as I read the article so it may be a bit off since I didn't see the event myself >_<) The second game starts. (This game is like musical chair) 6 fans were chosen to pair up with the 6 boys. They will be passing a bag of HANAMI and if a member of any pair is caught with the bag, that pair is eliminated. The third and last game is a dance off. 6 fans will get paired with the 6 boys and will dance together. The pair with the loudest cheer wins. You shouldn't even have to guess which pair will win…NichKhun's pair won!
The last part of 'Fan Meeting' is picking 60 lucky fans to receive 'Still 2:00PM' cd as well as signed bag of HANAMI. 2PM were pleasantly surprised by HOTTEST when an adorable VTR was played for the boys. As the boys watched, it made them laughed a lot. A cake was brought out to 2PM in celebrating their 2nd Anniversary since they debut. The boys were overwhelmed with joy! NichKhun was elected to thank Thai HOTTEST that came out today:
NK: "Thank you very much everyone for coming today and for the continuous show of support over the last 2 years. Let's see each other again at the concert."
You can say that we are very envious of 2PM's Fan Club! The nature of this Fan Meeting was fun yet very intermit between 2PM and their fans. I would even go as far as to say that if you missed this event you would feel very disappointed.
Let's jump right to the concert 'MNET Ultimate Live in Asia Thailand' Presented by HANAMI where the 6 member 2PM came out on stage to start their performance.
You could clearly and easily measure 2PM's rating/popularity just from the opening of the show with the VTR. It was received with the deafening screams from Thai HOTTESTs. As 2PM came on stage with their intro 'What Time Is It Now', HOTTESTs managed to scream even louder (is that even possible?) to the point of almost bring down the Arena! The nonstop fun continues during the 3 songs 'Don't Stop Can't Stop', 'I Hate You', and 'Without You'. 2PM quickly changed the atmosphere while they sung the acoustic version of 'Only You' which they handed out roses and lollipops to the lucky fans in the Hall. Not only are 2PM very handsome, they are very considerate as well. That's not all to their cuteness, during their 'Angel' performance, Nichkhun along with each members put on angel wings while they charmed HOTTESTs to the point where you can't help but to fall even more in love with 2PM. Next song is "I'll Be Back" from their latest album 'Still 2:00PM' which is currently doing very well in the KPOP charts. Following with 'Tired of Waiting', 'I can't'. The highlight of the performance was '10 Out Of 10' with the special surprise appearance from the Wonder Girls just for Thai HOTTESTs. 2PM wanted to give HOTTESTs a chance to rest from all the screaming and enjoy the VTR that 2PM had been working on for this trip to Thailand. As 2PM returns to the stage, they are now wearing white suites like white knights standing in front of us singing "Risk of My Life' and 'Gimme the Light'. 2PM concluded this HOT performance with their hits "Again & Again' and 'Heartbeat'.
We would like to say, without a doubt, 2PM had a very successful hour long performance!